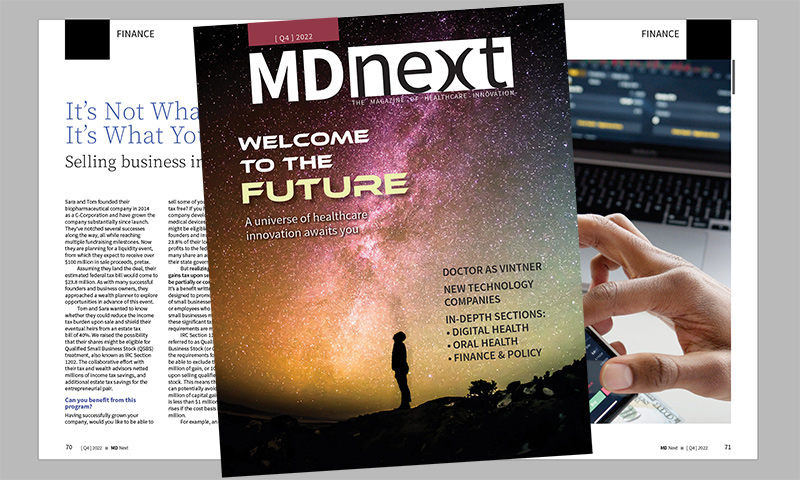 Q4 issue of MD Next
MD Next continues to highlight innovative startups. In this issue we highlight intriguing developments with sections in digital health, oral health, finance & policy. We are especially excited about the one-on-one conversation with Ed Zuckerberg, DDS. Dr. Zuckerberg and his wife are tremendous advocates for innovation and dedicate time to helping startups that could otherwise be spent on plenty of other things at this stage in their lives. And combining art and science comes to life with ENT Dr. Craig Senders and the launch of Senders Wines—which combines his passion for winemaking and humanitarian. It's this kind of dedication to advancing healthcare that we are honored to witness everyday and showcase for you in MD Next.
SEE IT!
CALL FOR SUBMISSIONS
MD Next is a community-based publication. We'd like your input!
• Outside the Box Clinician Thinkers? We want to feature innovative physicians, dentists & scientists. Nominate a colleague, or yourself. We'll arrange an interview and craft an article from there.
• Startup Features: Want your startup featured in a full-color magazine distributed to tens of thousands of clinicians? Describe the problem you are solving, details of your space and your solution. We'll follow up with specifications for graphics, images etc. to compliment your feature.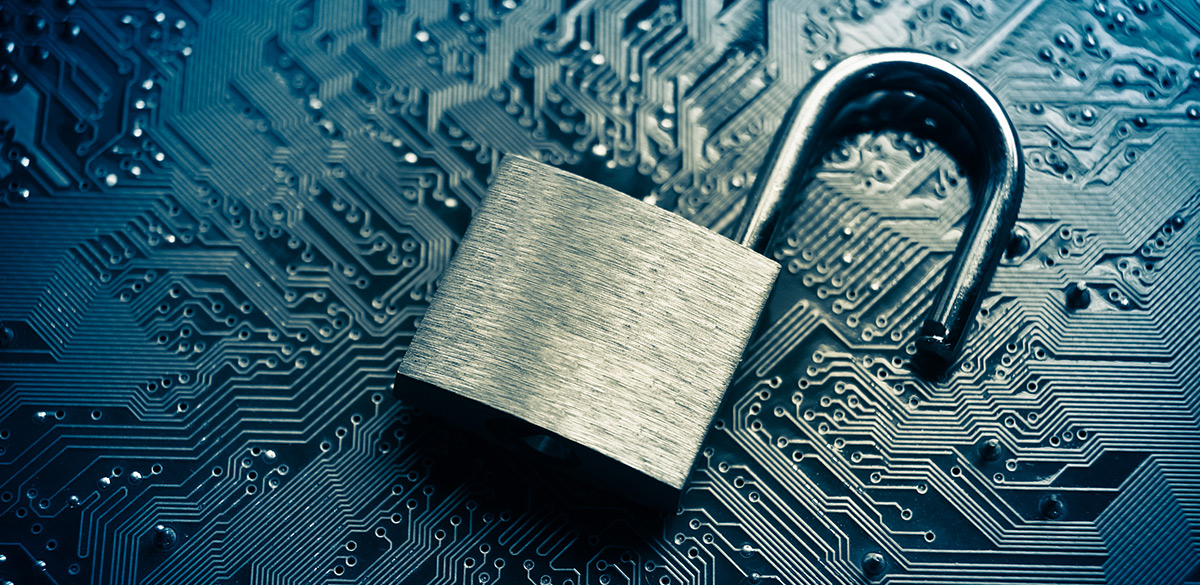 Getting Serious About Health Data
It's a little ironic that the same week we shared reports about declining Health IT budgets in healthcare, there was a major data breach. Fierce Healthcare shared that "A data breach on the District of Columbia's health insurance exchange exposed personal data on members of Congress, their families and employees, according to media reports.
DC Health Link confirmed to the Associated Press that it had been hit by the breach, and did not specify the number of customers impacted. The exchange offers plans to people living in the city and many legislators are enrolled in coverage through the platform. READ MORE

Money | There is an international struggle to unseat the dollar as the global currency. Saudi Arabia is likely joining BRICS. This is getting serious. If Russia, Saudi Arabia, Brazil etc. begin moving oil sales off the dollar, we may find ourselves in a new reality very quickly. Meanwhile, the price of gold ($2K/ oz.) and Bitcoin ($28K) continue to climb. Keep an eye out.
. . .
Genetics | If there is any doubt that cancer and genetics are not huge markets, look no further than the Pfizer acquisition of Seagen or even startups like Shennon Bio and Artera. AngelMD recently kicked-off a new Innovation4Alpha podcast season with a show featuring Vitro BioPharma. This is a story of a classic "20-year old startup" that now finds itself at the intersection of stem cell therapy, cosmeceuticals, inflammation and several other very hot categories.
. . .
Healthcare Investing Remains Hot | All indications point to the healthcare sector remaining an attractive investment for private equity in 2023, especially in high-demand categories such as behavioral health, health IT, and specialty physician platforms such as orthopedics. Kirkland & Ellis provided a comprehensive analysis.
Mertz Taggart showcased an analysis on the rise of venture capital in the behavioral health space. Anyone who has followed healthcare investing for more than a few years remembers that anything remotely tied to behavioral health was relegated to the financial scraps until recently.
Healthcare IT investment plummeted according to a Pitchbook report quoted in Becker's Hospital Review. Not surprisingly, this is largely tied to the poor finances of hospitals throughout the country.
. . .
AI Momentum Continues | One of the very first startups to create a profile on AngelMD was Eko—the digital stethoscope company. So we have always had a keen interest in their story and success. They now join the movement toward AI adoption with a recent announcement: AI tapping into their devices helps detect disease presence. MedCityNews Story Here
Meanwhile, the Advisory Board has published a new piece called "How Americans feel about AI in healthcare, in 5 charts." As you would expect, there is unease amongst the ranks. Before you read the article below featuring Apple's VP Health, Forbes posted a nice piece breaking down Apple's influence on consumer healthcare. READ
The Healthcare M&A space is expected to remain strong, according to a report by Grant Thornton. While numbers may be a bit off from a very robust 2021, they remain brisk. REPORT
To get daily news bites [just like these above] sent to your inbox, JOIN ANGELMD. It's free, and Vital Signs is a member benefit that delivers "3 Minutes of Healthcare Innovation News & Thoughts" to you on the regular.