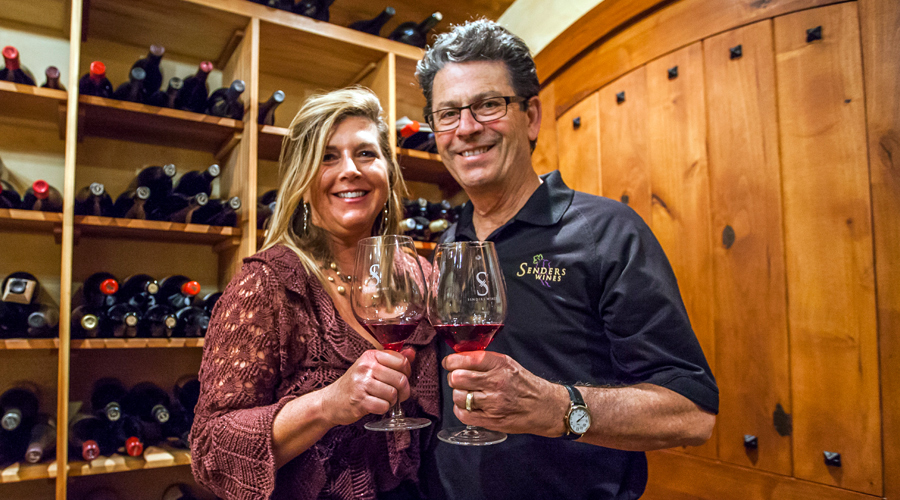 How a Surgeon Cultivates a Blend of Science and Art While Giving Back Globally
[This piece originally appeared on p. 92 in the Q4 2022 issue of MD Next. Check it out to see photos of Senders' work.]
~By Michael Schmanske
As careers mature, children leave to lead their own lives, our hair turns gray and thoughts turn towards what to do with our newfound time and freedom. If you have the talent you might take up painting or golf. Those with means might choose to invest in travel, boating or other extravagant hobbies. But the ultimate passion project has to be owning your own vineyard. It's expensive, risky, requires great patience and embraces difficult physical labor. Scores of variables go into making a passable wine and dozens or hundreds more contribute to running a winery as a profitable business.
Doctors certainly fit the mold of potential vintners. Intelligence, education, competitiveness, quality control and a mastery of delayed gratification (hello, med school and residency) are all qualities that define the medical profession and contribute to a successful production vineyard. But there is one clinical specialty which may have a significant leg up on the competition.
If you explore wine tasting, you quickly learn that it largely engages the olfactory sense. To the layman, this means the sense of smell. Further, it turns out that most of the senses used to enjoy wine are the senses on which otolaryngologiests (ear, nose and throat specialists, or ENTs) focus. Craig Senders, MD, is one such ENT and he merged his love of wine with his skill and passion as a physician to become a winemaker.
The wine enthusiast becomes vintner
About forty years ago, Senders was a young pediatric surgeon on a much-needed break from work on a river rafting trip with his colleagues—enjoying some Napa wine. The brief respite from his rigorous practice had a lasting impression on him, and he launched a new journey into winemaking. He began by making wine casually at home while continuing to advance his medical career. The challenge, he discovered, was balancing his life as a medical humanitarian and artisanal winemaker.
As time passed, his medical career advanced and his winemaking improved. His list of medical publications grew while his small-batch wine was attracting critical acclaim and numerous accolades. He struggled to reconcile his passions: Frequent surgical outreach projects around the world and limited resources restricted his ability to make wine.
Yearning to make better wine and further their humanitarian goals, Craig and Karen founded Senders Wines in 2005. This small, family-owned boutique winery specializes in small lots of Cabernet Sauvignon and Pinot Noir from grapes harvested in Napa and Sonoma. The Pinot Noir grapes are sourced from the Russian River Valley and Carneros appellations. Craig crafts the wines at a custom crush facility in Napa while his wife Karen handles marketing and sales.
But focusing on the wine alone would miss one of the most important characteristics of the Davis/Napa/Sonoma-centered winery: The Senders have turned their passion for wine into a humanitarian cause that transcends the accolades given to their Pinots, Cabernets and Sauv Blancs. One hundred percent of profits from Senders Wines go to funding cleft lip and palate repair around the world. These are much-needed procedures that end suffering and promote health in communities without sufficient medical resources.
Today, Craig leverages his sophisticated knowledge of human sensory as a distinguished ENT surgeon to help engineer delicate Pinots and sophisticated Cabernets with scintillating aromas and enduring flavor.
Dr. Senders' medical practice is based in Davis, California, where he is the director of pediatric otolaryngology and director of the Cleft and Craniofacial program at University of California, Davis, Children's Hospital. Serendipitously, UC Davis also happens to be a vortex of wine talent including some of the top educational programming in the wine industry.
As for Karen, she was flight attendant for Continental airlines followed by a director for March of Dimes. She loves everything about wine. "I love the history, art, food-pairings, friendships and mood enhancement!" said Karen.
Karen attributes the world-renowned UC Davis Viticulture and Enology program, living one hour from Napa, and a Napa-fueled social circle of wine connoisseurs, cooks and foodies for driving Craig's passion. "We started turning the best fruit in the valley into wine," said Karen. "After a few years of winning awards for our home winemaking, increasing demand for the wine and encouragement from friends, Senders Wines went commercial in 2005."
Over the years, Karen and Craig developed relationships with celebrated growers in Carneros, Oakville, and other Northern California regions vital to the cultivation of a library of wines. These local supporters are integral to the goal of making both art and a difference in the world. According to Craig, "They recognize our need for amazing fruit and often invite us to hand pick the best rows that year for our small-batch harvest."
The Cabernet Sauvignon is made of vines from Oakville Station Vineyard, which is surrounded by other famous vineyards including Opus One, Martha's and To Kalon. This hallowed soil produces small, slow-to-ripen grapes which create intense and balanced wines. As a result, Senders Wines are intended to drink very well upon release but still age gracefully.
Craig's greatest passion is their Pinot Noir. "Cabernet is like wine in a sweatshirt—the intensity of the grape covers up many nuanced flavors. Pinot Noir is like wine in a negligee—all the nuanced flavors show through," says the winemaker. The Pinot comes from grower Frances Mahoney in Carneros.
Karen shares, "Craig loves the challenge that the Pinot Noir grape gives him." He agrees with the movie "Sideways" that states "the Pinot Noir grape is the most finicky, complicated, needing constant care and nurturing to be coaxed to its fullest expression."
Creating smiles around the world
A cleft palate occurs when the roof of the mouth contains an opening into the nose. The disorder can result in feeding problems, speech problems, hearing problems and frequent ear infections. Untreated, children often experience speech and/or developmental delays, social exclusion and other life-defining difficulties. This feels particularly wasteful since a cleft palate can be quickly repaired with a surgery called palatoplasty when the baby is 10–12 months old. The goals are to close the opening between the nose and mouth, create a palate that works well for speech and to prevent food and liquid from leaking out of the nose.
With proper medical care patients with cleft lip and palate conditions can be treated successfully with no lasting problems. A team experienced in treating children with cleft lip and palate can perform the surgery in about two to three hours, and most babies can go home after one or two days in the hospital.
To further his humanitarian goals and reach patients in need, Dr. Senders is also a board member of Faces of Tomorrow, a non-profit organization delivering medical care to an underserved population of children, youth and adults who might otherwise not receive the benefit of surgical treatments for their cleft lip or palate. He personally trained most of the surgeons involved in the organization and the impact he is having on patients around the world is inspiring others to do the same.
Senders "Wines with a Cause" is the framework for blending Senders Wines with the humanitarian goals of Karen and Craig—and they integrated the tag line "Take a Sip and Save a Lip" to promote their fundraising efforts. As a result, more than 3,000 children have received new smiles and have had their lives changed by the teams of surgeons, dentists and nurses from these missions. Their award-winning vintages literally have the added flavor of generosity.
"Senders Wines followers love both the wines and the cause," said Karen. "Many customers gift our wines because to them it's fulfilling, like giving and receiving to the recipient."
Nothing pairs better with a beautiful wine than a beautiful cause that helps children to smile again. And in the end, Sender's Wine doesn't have to choose between developing memorable wine and making an impact on the world. The Senders have done a masterful job of combining both passions.
…
Michael Schmanske is a 24-year Wall Street veteran with experience on trading desks and asset managers. He graduated with degrees in Aerospace Engineering from MIT and a Masters from Princeton University. Mike is the Managing Director for AngelMD Capital and runs research and Analytics at AngelMD where he is happy to exercise his inner nerd on a regular basis by supporting the most innovative entrepreneurs and cutting-edge medical startups.