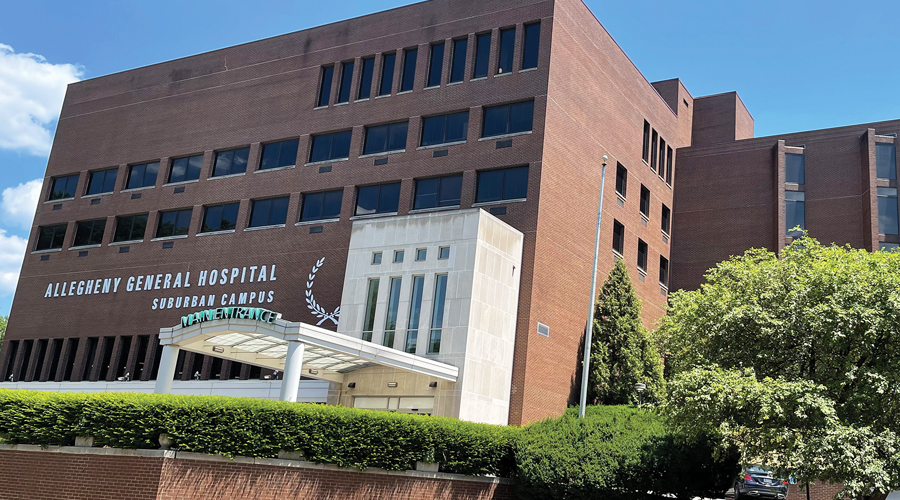 How a Zombie Hospital in Pennsylvania Was Reborn as a Startup Accelerator
[This piece originally appeared on p. 26 in the Q3 2022 issue of MD Next (our inaugural issue). Check it out to see more info.]
Three miles north of downtown Pittsburgh, nestled between the Ohio River and the rolling Allegheny foothills, lies the town of Bellevue, PA.  The borough is emblematic of many American towns which once depended on a local manufacturing base for their livelihood. The communities suffered as the national and local economies transitioned away from steel production and manufacturing and are now home to many industrial buildings and houses that have seen better days.
What many of these post-industrial neighborhoods do not have is proximity to some of the most advanced research capabilities in AI, machine learning, robotics, emerging tech, and life sciences in the world, supported by billions of dollars in non-dilutive funding from the federal government. The intellectual property engines at Carnegie Mellon University and The University of Pittsburgh are a big reason why Pittsburgh, once a classic rust-belt city, now has a life sciences and biotech ecosystem that has recently been recognized as one of the top emerging innovation clusters in the world.
Innovation doesn't always mean technology; sometimes it means looking at problems and assets in a new way.  Welcome to Allegheny General Hospital's Suburban Campus: a seven-story, 230,000 square foot brick building that shuttered most hospital operations in 2010. It took a physician turned entrepreneur with the right mix of business acumen and creative courage to envision how an empty "zombie" hospital could come to embody the transition from old economy to new and create opportunity and growth for the entire region.
Support services are important, but to drive economic development we need to assist entrepreneurs and innovators to become the employers of tomorrow. Jeff Cohen, M.D.  recognized the facility possesses the infrastructure and connections to house a fully integrated innovation hub and incubator in health sciences.
In 2019, when he became the first-ever Chief Physician Executive for the newly formed AHN Innovations, he quickly recruited Innovation Works—the most active seed stage funder in southwest Pennsylvania and one of the most active in the country. They joined their expertise to create a new life sciences and bio tech accelerator: AlphaLab Health.
AlphaLab Health gives entrepreneurs access to specialized clinicians, insurers, hospital administrators and domain experts that accelerate the new company's growth. The program links emerging companies with early customers, corporate partners, potential investors and knowledgeable staff and mentors. The companies also receive up to $100,000 in pre-seed investment.
"While AHN has long been a leader in clinical research and innovation, AlphaLab Health is a transformative partnership that takes our commitment to an entirely new level and further elevates the Pittsburgh region's profile as a wellspring of pioneering, game-changing ideas and solutions in healthcare," states Cohen.
To date, the accelerator has completed two cohorts totaling 14 companies from a wide range of disciplines covering diagnostics, therapeutics, medical devices, healthcare IT and packaging solutions. Most of the companies are hitting growth milestones since completing the program, including raising additional venture capital and non-diluted funds, hiring new local FTEs, and launching significant trials, pilots, and beta tests.
"AlphaLab Health wraps entrepreneurs with a network of clinical and business experts who know how to help them succeed in the complex healthcare system," said Megan Shaw, managing director for life sciences at Innovation Works. "The program brings together all the strengths of IW and AHN and then adds in mentors, access to customers, clinicians with deep experience and domain knowledge, and other resources that can help these talented founders leapfrog past the challenges they would otherwise face," Shaw continued.
The accelerator operates out of a 10,000 sq ft former intensive care unit that was renovated to create open collaboration and educational space and wet and dry labs with money from philanthropy, the PA Department of Community and Economic Development, and the health system. The larger facility also has technologies that are difficult for smaller companies to access, such as a mass spectrometer. But as Shaw mentioned, the real differentiating factor is the close relationship AlphaLab Health can provide with clinical mentors which creates a real-time feedback loop for the companies.
"AlphaLab Health helped de-risk key aspects of our business plan so that we could take this surgical planning technology from the bench to bedside at scale," says Max Sims, MBA, co-founder and CEO of MindTrace, a company that is developing technology that allows neurosurgeons to remove brain tumors and seizure-generating tissue, while ensuring each patient leaves the hospital the same person they were when they arrived, preserving personality and skills. "The introductions to clinicians, business administrators, and members of Pittsburgh's life science investor community successfully prepared us for the next round of funding and navigating the regulatory process," Sims concluded.
If you are interested in learning more about this project or any of the companies participating in AlphaLab Health you can follow @alphalabhealth on Twitter or LinkedIn. The accelerator will also began accepting applications for its next cohort in August, so if you are participating in a pre-seed startup as a founder or family and friends investor, consider applying and joining this inspiring community of health innovators in Pittsburgh.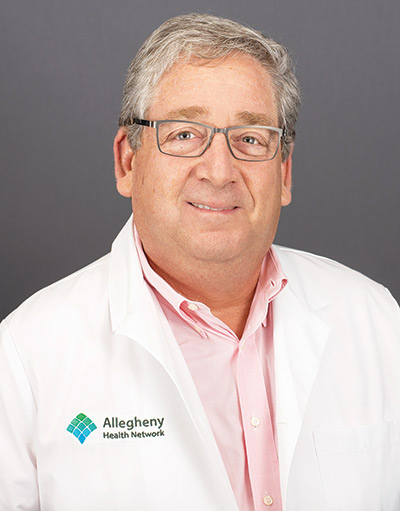 Jeff Cohen, MD
Jeff Cohen, M.D., is a practicing urologist with a concentration in oncology. He graduated in 1976 from Syracuse University with a BS in Biology and earned his medical degree from SUNY Upstate Medical University in 1979. Dr. Cohen completed a residency in urology at Case Western Reserve in 1984 followed by a fellowship in urology at The M.D. Anderson Cancer Center. Upon completion he entered a clinical practice at Allegheny General Hospital (AGH) in 1985.
Dr. Cohen has developed and introduced several technologies and procedures including Laser Lithotripsy, fiber optic based endoscopy, piezoelectric biplanar transrectal ultrasound and Cryosurgery. Dr. Cohen was director of urology at AGH from 1998 until 2016 and chief medical officer of AGH from 2013–2014. He became president of AGH, a large quintenary hospital in downtown Pittsburgh that is part of the 14-hospital Allegheny Health Network, a fully owned subsidiary of Highmark Health—one of the largest integrated and financial delivery systems in the nation. He served in that role until 2020, when he became chief physician executive, community health and innovation of AHN.
Dr. Cohen is president of ChemImage, a privately held company specializing in hyperspectral identification of chemical/biological agents, drugs, explosives, anatomic structures and/or malignancies. He is married and has four children and resides in Pittsburgh, Pennsylvania. In his private life he has started multiple life science-based companies, is named on over 30 patents, and sits on the capital table for dozens of startups in the region.
As the head of AHN Innovations, Dr. Cohen saw the potential of a facility that could capitalize on local support and community integration to deliver a wide range of support services including daycare, mental wellness and community support. An example: renovating the hospital's industrial kitchen to support food entrepreneurs and culinary job training. Recently they converted the kidney dialysis lab to support STEM programming for K-12 students that introduces coding, robotics, and other pathways to economic opportunity in Pittsburgh's new economy.